Our MultiBugs Holiday Camp is back this week celebrating the Easter half term! Once again there is an incredible variety of different sports on offer to children to participate in whilst following a range of themes on each day.
Some of the sports on offer at the camp include; Tennis, Netball, Cricket, Dodgeball, Hockey and many more!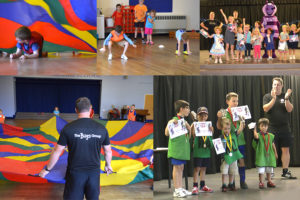 Our camps are focused on creating a fun and enjoyable experience for all children, meeting and making new friends and also to reach their full potential and improve skills in the sports they love.
Throughout the week, children can earn points for their teams before a special competition day at the end of the week, where there are a number of prizes and certificates given out to children in a presentation.
The MultiBugs camp is held in Harborne (South Birmingham) at Four Dwellings Academy, B32 1RJ.
For more information or to book your child's place, call on 0121 777 7792, email [email protected] or click the button below!