Welcome to our Holiday Camps. We believe that Holiday Camps should be safe, friendly and full of fun activities. All of our camps are fully inclusive, designed to engage children through games, matches, tournaments and performances.
Tuesday 30th May - Friday 2nd June 2023
Discount Offers/Sibling Discounts:
Sibling discounts 10% – No code needed, it's automatic when booking 
ONLY AVAILABLE DURING EASTER, SUMMER & CHRISTMAS HOLIDAYS
Children who are eligible for Free school meals can go to our holiday camp Free of charge between the hours of Solihull: 8:30 -15:30 & Worcs: 9.00 – 15.00 and also receive a free meal. Just call us on 0121 777 7792 to receive your FSM discount code that can be redeemed when booking.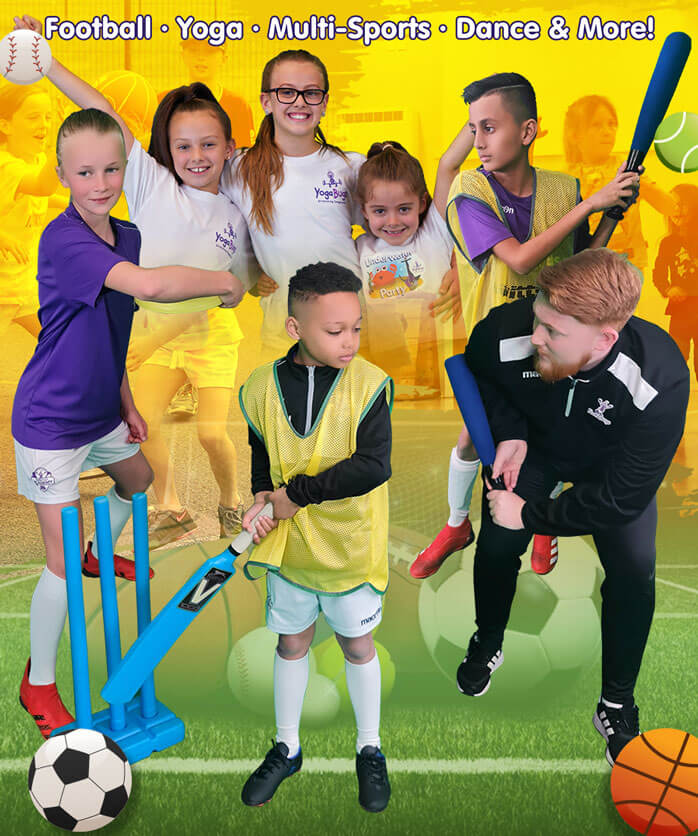 Questions? Feel fee to Bug us on 0121 777 7792
Click the relevant button below to book online
Burlish Park Primary school DY13 8LA
Not Running this May half term
Times: 
Not Running this May half term
Questions? Feel free to bug us on: 0121 777 7792
Click here for our Nut-Free Policy
Nut Free Policy
We at The Bugs Group aim to be nut-free. The Bugs Group aims to protect children who have allergies to nuts yet also help them, as they grow up, to take responsibility as to what foods they can eat and to be aware of where they may be put at risk. We do not allow nuts or nut products in lunch boxes.
Our 'Nut-Free policy' means that the following items should not be brought into camps:
• Packs of nuts
• Peanut butter or Nutella sandwiches
• Fruit & cereal bars that contain nuts
• Chocolate bars that contain nuts
• Sesame seed rolls (children allergic to nuts may also have a reaction to sesame)
• Cakes made with nuts
• Any home cooked meals for packed lunches that are made from nuts
OUR CAMPS ARE OPEN TO CHILDREN OF ALL ABILITIES,
BOYS AND GIRLS, AGED 5-12 YEARS!
10% Sibling discount - book single days or full weeks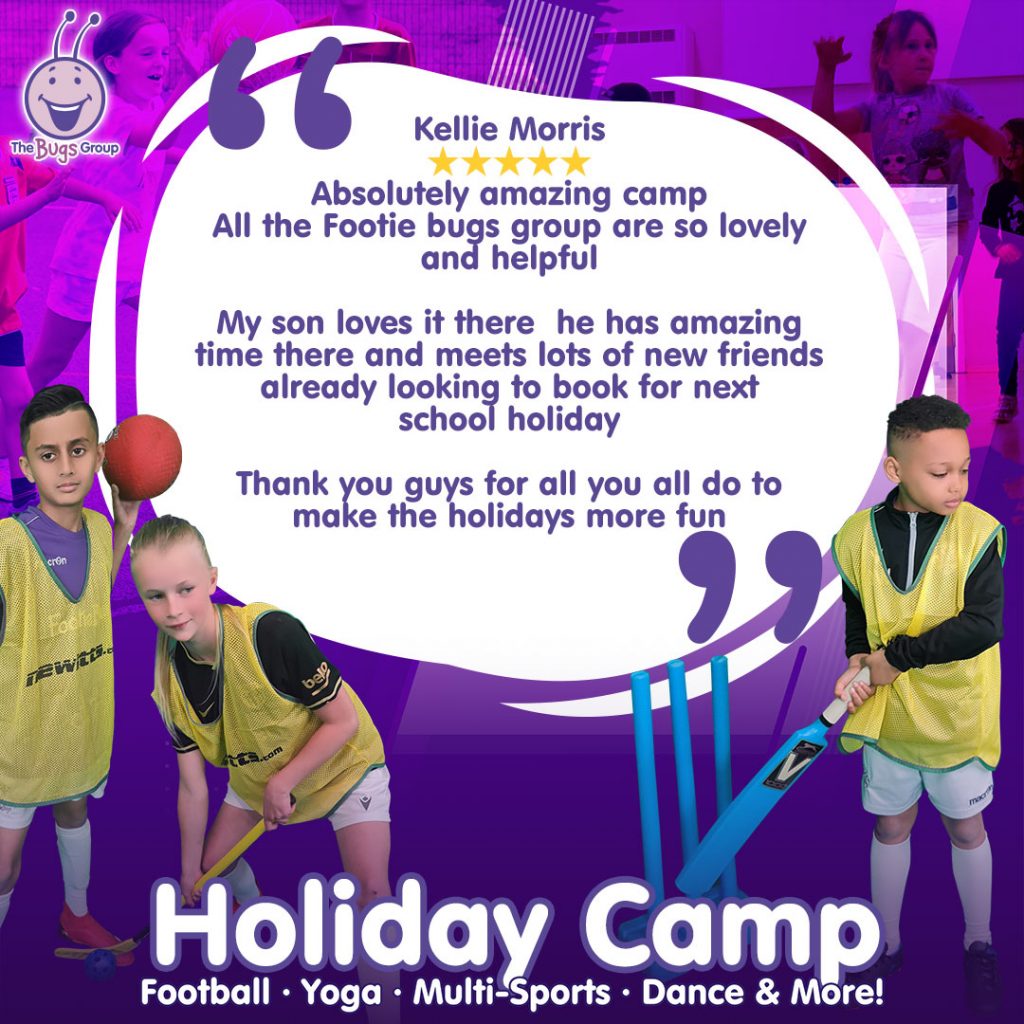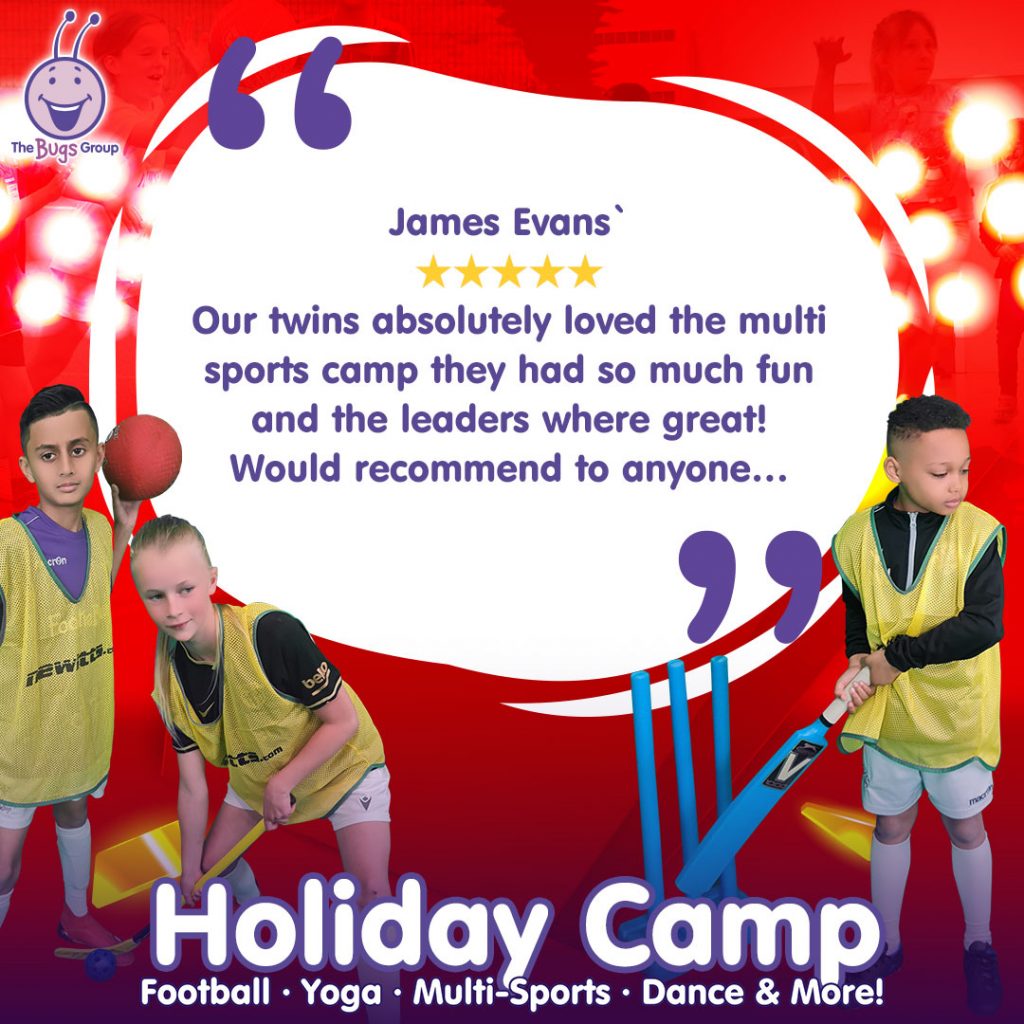 FootieBugs Active Camps help children develop their core football skills and take on new challenges, whilst having loads of fun and meeting new friends

 

At the end of each week we host a special tournament where children are put into teams to showcase the skills that they have learnt and work together as a team

 

All children go home with a medal & certificate, with the chance to win prizes and trophies!
Get involved in arts & crafts & design their own football boots and football kits.

 

Children will have the chance to learn different dance styles including Freestyle, Street, Jazz Musical Theatre & Acro!

 

Each week we use themes or artists such as Disney Songs, Girl Bands or Musicals to create our performances and learn our dances.
DanceBugs allows children to use their imaginations creating their own dances that they will showcase to their parents at the end of the week in spectacular performance

MultiBugs is open to children of all ages and abilities. Children will participate in a variety of different sports throughout the week, including badminton, ultimate frisbee, dodgeball, basketball, cricket and much more. All of our coaches are here to keep your children safe, engaged, having fun and learning loads of skills.
At the end of each week all MultiBugs children will participate in a round robin Olympic style tournament, where they will receive certificates, prizes, football tickets and much more.