Sport isn't just good for children's bodies; it's good for their minds too. Studies have shown that sport has psychological benefits for children and adolescents and teaches them important life skills.
Organised sport has many psychological and social benefits for children – even more than the physical activity during play. Researchers think this is because children benefit from the social side of being in a team, and from the involvement of other children and adults.
Developmental benefits
Development from sport goes beyond learning new physical skills. Sport helps children develop better ways to cope with the highs and lows of life.
When they're playing a sport, children learn to lose. Being a good loser takes maturity and practice. Losing teaches children to bounce back from disappointment, cope with unpleasant experiences and is an important part of becoming resilient.
Playing sport helps children learn to control their emotions and positively channel negative feelings. It also helps children to develop patience and understand that it can take a lot of practice to improve both their physical skills and what they do in school.
Emotional benefits
Physical activity has been shown to stimulate chemicals in the brain that make you feel better. So, playing sport regularly improves children's overall emotional wellbeing.
Research shows there's a link between playing sport and self-esteem in children. The support of the team, a kind word from a coach, or achieving their personal best will all help children to feel better about themselves.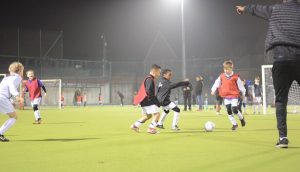 Social benefits
Playing in a team helps children to develop many of the social skills they will need for life. It teaches them to cooperate, to be less selfish, and to listen to other children.
It also gives children a sense of belonging. It helps them make new friends and builds their social circle outside school.
An important part of playing in a team is accepting discipline. Playing sport means children are expected to follow rules, accept decisions and understand that they could be penalised for bad behaviour. It will teach them to take directions from the coach, referees and other adults. Sport will also teach them all about teamwork.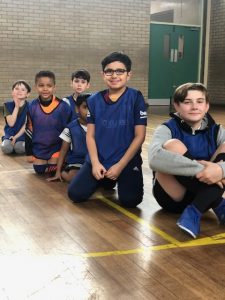 Parents play an important role in sports
To keep your child interested and enjoying sport, make it a positive experience for them. Focus on having fun, having a go and being active, rather than winning or losing.
You can help your child develop a positive sporting attitude by praising the team's or other children's efforts, even if they don't win. Point out to your child how important it is to try and do their best.
Make sure your comments from the side-lines are positive and don't criticise children who make mistakes. Never abuse a team, umpire or other players.
FootieBugs, through its children's football based activity programmes promotes individuality and encourages this by building confidence and self-assurance. We also ensure that children enhance their core skills by playing and learning together with their peers. As such, the FootieBugs children's football based activity programmes are designed age appropriately offering a clear step by step activity based programme that can be accessed by all. Together this encourages children to maximise their knowledge and understanding, their eagerness to participate and be part of a team and above all enables children to develop to their full potential.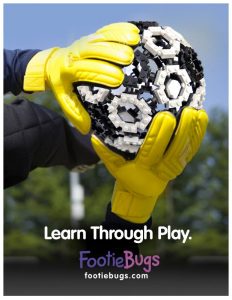 FootieBugsis a professional football activity and child development programme for children from three to eleven years.
The FootieBugsteam includes professional footballers and individuals experienced in working with young children.
All FootieBugscoaches are professionally trained, passionate about football and are suitably screened to ensure child protection standards are upheld.
FootieBugsencourages and promotes the importance of exercise and healthy eating from an early age.
FootieBugsintroduces children to the fundamental football skills in a fun and innovative way.
FootieBugsactively promotes an inclusive approach through flexible session plans, fully-trained staff and a positive outlook which emphasises accessibility for disabled children and those with additional needs.
All FootieBugs children's football sessions are conscientiously woven into an ever evolving programme that places as much emphasis on concepts like learning colours and developing number skills as on fine-tuning a child's basic balance, agility and co-ordination skills.
All FootieBugs programmes are taught in a positive, pressure-free environment which encourages children to learn and develop at their own pace.
FootieBugs prides itself on being able to do more than help produce the next David Beckham, more than just teach children the core skills to be a good footballer; it prides itself in working in partnership with the whole family. We believe in offering all of our knowledge and expertise that extends the football field by providing invaluable health and fitness guides and nutritional booklets, which parents/carers find particularly useful.