YogaBugs are delighted to have been invited to attend the Preschool Learning Alliance's Annual Conference this week in London! We have been invited to run a workshop at the conference, demonstrating some of the best practice in mental health provision for early years!

The theme of this year's conference is 'Minds matter: protecting the wellbeing of children and practitioners in the early years' – something that YogaBugs feel passionately about. As recent figures show that one in three children will experience a mental health issue, it is becoming increasingly important for children in early years to receive early intervention and be provided with the tools to help boost mental health and wellbeing through mindfulness.
It is also important that early years practitioners are also receiving support regarding their mental wellbeing, as the Preschool Learning Alliance report that 'one in six people of working age are diagnosed with a mental health condition in England'. We are honoured to have been invited to run a mindfulness workshop at the conference, demonstrating best practice in developing mental wellbeing in not only early years children, but also for practitioners.
Our workshop will be showcasing how Yoga can be used as a fun and engaging exercise for children in early years and the many physical and mental benefits of Yoga for pre-school children. The YogaBugs 'Tools for Life' programme is implemented in hundreds of Nurseries across the country, providing story and imagination based Yoga sessions. As well as fun and creative Yoga inspired movements, sessions include breathing, relaxation and visualisation techniques – to help promote a sense of mindfulness and teach children how to deal with different emotions and release negative thoughts such as stress and anxiety.
Improves Concentration – Children are more focused when getting into different poses, most notably balancing poses.

Improves balance and coordination – Yoga poses have a number of physiological benefits, including increased muscle strength and flexibility.

Encourages a calmer mind – Through breathing and relaxation techniques, children learn a valuable skill at a young age to calm themselves and release negative thoughts, which can be important for later in their life.

Reduces stress – Breathing exercises can be used by children to help control their emotions when they feel stressed and may have a 'temper tantrum'.

Promotes self-expression – Yoga sessions must incorporate imagination and creativity to allow children to express themselves in a positive environment.

Enhances flexibility and strength – pre-school children lose their range of flexibility as the grow older, so practicing Yoga helps to improve their fine and gross motor skills to develop their muscles.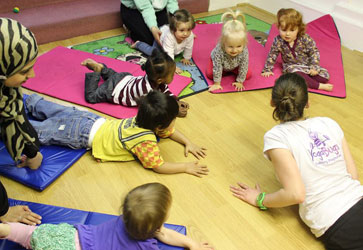 As part of the 'Tools for Life' programme, practitioners also participate in workshops and CPD mindfulness training. Practitioners will be able to learn different techniques to use to help them de-stress and deal with any other mental wellbeing struggles. Practitioners are also taught further techniques to teach children to further enhance the intervention available to early years children.
To find out more about YogaBugs and the physical and mental benefits of Yoga for pre-school children, please visit our website here. For more information on the Preschool Learning Alliance and the Annual Conference please click here.
Make sure you follow our Social Media pages to keep up to date with the event on Friday the 1st of June 2018!