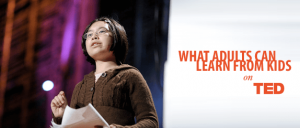 A TED Ed talk by a 'child prodigy' has inspired us, and reminded us why we do what we do. The lesson hosted by 12 year old Adora Svitak old states just why we need to think more like children instead of supressing high expectations, behaviours and attitudes that will allow us to follow our dreams. The outcome of her speech concluded that "the world needs "childish" thinking: bold ideas, wild creativity, and especially optimism".
The Bugs Group is built around imagination and creating a healthy body and mind in children of all abilities. We encourage our teachers and coaches to 'play' and genuinely enjoy themselves whilst teaching, which makes the learning and development flow during a lesson. It is much more of a challenge to get an adult to open their mind and just lose all inhibition, and we often envy children's ability to be footloose and fancy-free!
The ethos of the group is to help each and every child reach their true potential in a supportive and safe environment whilst keeping the fun well and truly alive.
Each of our group companies uses their own specific expertise and experience to build programmes that are extremely enjoyable as well as highly educational.
Children at the forefront of everything we do and it is their wellbeing that forms the foundation that the group is built on. We will ensure that their safety and comfort is always of great importance and regardless of age, size or sex they will always be treated with great respect.
With YogaBugs we have ensured that the core benefits of yoga are entwined with interactive stories that stretches imagination builds self-confidence and enhances self-esteem to support each child both physically and mentally. Each and every YogaBugs class is taught by experienced instructors who not only share our passion but also believe in the importance of encouraging children to lead a happy and healthy life.
With FootieBugs we have underpinned the benefits from one of the world's most popular sport to create a specific programme that incorporates Balance, Coordination, Flexibility and Focus with the importance of teamwork and social interaction. Our coaches have achieved great success in their own football careers; they fully understand the value of a healthy lifestyle including diet, exercise and above all; fun and laughter.
With DanceBugs we've created funky dance classes for kids to encourage children to express themselves positively, gaining confidence and social skills through music and movement! DanceBugs classes have been designed age appropriately with a big emphasis on creativity and fun, offering a variety of different styles of dance classes from Ballet and Tap to Freestyle and Street!
Each and every lesson we create is grown from the principles of a child's imagination. We delve into the world of a child, and it allows us to let go of any hang-ups and just have FUN! So if this is 'childish thinking', then we are one big 'childish' group.
To find out more go to
or drop us a call on
0121 777 7792