The Bugs Group's MultiBugs Holiday Camp returns to the Harborne area during the Whitsun week half term, with over 30 different sporting activities on offer for children!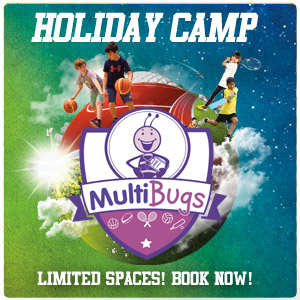 The camp is open to boys and girls aged between 4-12 years old, where kids will be able to play some of their favourite sports, as well as playing some activities that they may have never tried before!
Some of the sports and activities that the children will play during the holiday camp can range from badminton to football and from athletics to dodgeball, meaning there is always a new fun and exciting activity on offer for kids to enjoy!

At the end of the week, there will be a competition day where children have the chance to demonstrate the skills they have learnt during the weeks activities. There are also chances to win special trophies and all children go home with a certificate.
As with all of The Bugs Group's holiday camps running across Birmingham and Solihull, the main goal of our camps is for all kids to have a fantastic time, meet new friends, develop their skills and above all have lots of fun!
The MultiBugs camp is held in Quinton, just outside of Harborne, South Birmingham, at Four Dwellings Academy (B32 1RJ).
Early-bird discount will end on Monday the 8th of May at 5pm! To book a place on the MultiBugs holiday camp click the button below or call 0121 777 7792.