There are now less than 3 weeks left until schools break up for the summer holidays, which can only mean one thing… the return of our FootieBugs Kids Summer Holiday Camp in Solihull!

Our Kids Football Holiday Camp is the perfect activity that not only ensures that children remain active during the long summer break, but also makes sure they have a fantastic time packed full of football and summer fun!
On the camp during the summer holidays, children will play some of their favourite football based games like penalty shootouts and the crossbar challenge and also work on improving their technical football skills. Children will be able to cool off on extra hot days by participating in fun water fights!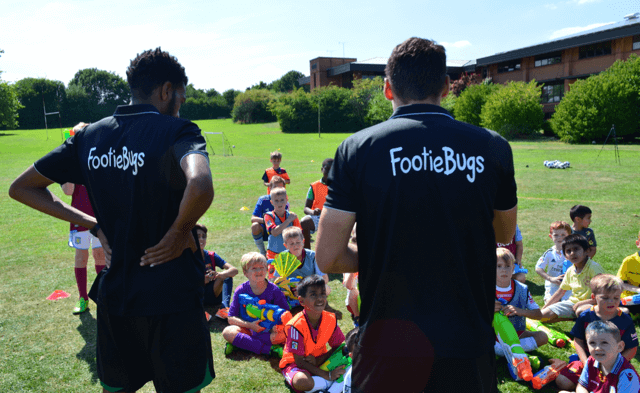 There will also be specially themed days during the kids football holiday camp in Solihull each week, which can include wacky Wednesday or Flag Friday! Each differently themed day will include new and fun games and activities that the children may not have experienced before and will love!
Click here to view a video of previous FootieBugs Kids Holiday Camps, or here to read our review on all of The Bugs Group's Holiday Camps during Whitsun Week Half Term!
At the end of each week, there will be a competition day where children will be put into teams and compete against each other using the skills they have learnt during the week to win points for their teams in fun games and matches. There are lots of amazing prizes and trophies to be won and all children that attend the football camp in Solihull will receive medals and certificates.
The FootieBugs Holiday Camp is returning to Solihull for the Summer Holidays and will be held at The Solihull Sixth Form, just outside Solihull Town Centre. The holiday camp is open to both boys and girls aged between 4-12 and runs from 9:30am to 3:30pm, with extended hours also available. Our DanceBugs Dance Holiday Camp is also running at the same venue and is perfect for siblings who may wish to do separate activities! To find out more about our DanceBugs Dance Holiday Camp,  please click here.
Early Bird prices are available until Wednesday 5th of July. To book your place on the camp either click on the poster below or call head office on 0121 777 7792!