The Bugs Group Holiday camps & Covid-19
We understand children need some much needed time away from their household to socialise with others whilst participating in exercise and fun games!
We are also committed to be able to support parents in their much need for childcare over the school holidays.
Across all of our locations, we have a COVID-19 Secure Policy, which you can see on the image below to make you feel at ease that your child is in safe hands.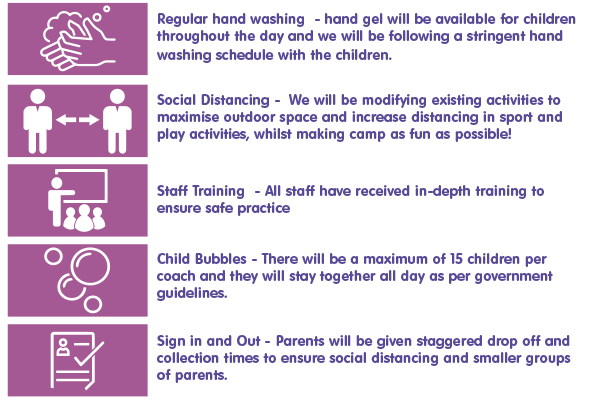 The Bugs Group camps are now open for booking!
See our important safety measures below:
·      Temperature checks – all coaches and children will have their temperature checked before coming into the camp, anyone with a high temperature will not be able to attend
·       You can only book for a full week due to government guidelines and the safety of keeping children in bubbles from week to week

·       No financial risk – full credit if we have to cancel camps or if anyone in your household tests positive for Covid-19
·       Smaller Groups – there will be a maximum of 15 children per coach group, and these children will stay with each in their bubbles and their designated coach throughout the day
·       Reduced availability so we can manage groups and ensure there is enough space for all the groups to be socially distanced. Book soon to avoid disappointment.
·       Modifying existing activities to maximise outdoor space and increase distancing especially in sport and play activities, whilst making camp as fun as possible!
·       Staggered drop off an collection times for parents to avoid long queues and groups of parents
·       Staggered lunch and breaktimes to keep groups separate
·       We will increase hand washing/sanitising for children throughout the day and after each activity/break
·       Increased cleaning throughout the day and at the end of every day
·       Parents will be asked to provide their child's lunch in disposable bags, so that everything can be thrown away