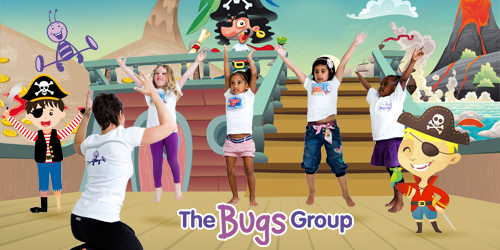 To create and develop a range of high quality activities and sports that places the Childs overall wellbeing at the forefront of everything we do. The ethos of the group is to help each and every child reach their true potential in a supportive and safe environment. Each of our group companies uses their own specific expertise and experience to build programmes that are extremely enjoyable as well as highly educational. … [Read More]
The Bugs Group Mission
"The Bugs Group strives to be the global leader by defining children's activities, in offering fun, healthy and engaging skills for life, building on our passion and belief that every child has the right to gain access to professionally operated activity classes in a safe and comfortable environment."
The Bugs Group Brands
The largest children's yoga inspired activity in the UK, offering classes for children from walking to 12 years!

Fun, unique and professional football classes for children aged 3-11 years!

DanceBugs offers a variety of different styles for children aged 4-12 years!


Offering a range of sports taught through imagination!



Coming soon to The

Bugs

Group!

Coming soon to The

Bugs

Group!